The temperature controlled indoor storage space at Northwest Distribution Center is the perfect place to warehouse and distribute your refrigerated and frozen products. Your trucks can unload and load quickly and easily – and be back on the Interstate making pickups and deliveries throughout southwestern Montana and the northwest United States.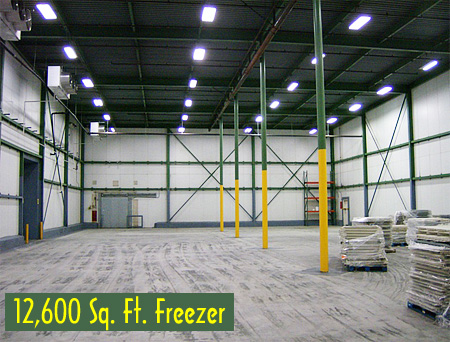 Here are just of few of the benefits of warehousing and distributing your frozen and refrigerated goods from Northwest Distribution Center Warehouse:
Our cold storage areas provide both ground and dock access for trucks – unique in this region.
Our close proximity to the intersection of I-15 and I-90 reduces transportation time to Butte, southwestern Montana and the northwestern United States.
We have 7 Cross Dock doors.
A separate restroom.
Heated docks.
2 offices.
Dock plates and a separate entrance.
All 7 docks are equipped with exterior electrical outlets for plugging in the trucks.
120,000 square feet of contiguous dry goods storage space that includes 1,200 square feet of office area which has: 2 offices, 2 break rooms and 2 rest rooms. This area is heated and has 19 available dock doors for all of your shipping needs.
Access to 2 railroad spur lines: 4 Rail doors supply rail service to this area.
Exterior truck storage.
Covered garage space.
Truck maintenance shop.
Please contact us, and let's set aside some time to take a tour of our facility – and discuss how Northwest Distribution Center and our decades of experience can help make your distribution business run smoothly and profitably.